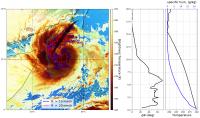 A ROHP-PAZ profile crossing the bands of intense rain in a category-3 cyclonic storm, the Mekunu, occurring on the South-East of the Arabian Peninsula on May 23 2018 (3:04 UTC). The left panel above shows the co-located infrared image of the cyclone and its rain rate contour lines (solid colored contours), with indication of the ROHP-PAZ observation planes below 15 km altitude (black straight lines). The right panel shows the measured polarimetric shift ∆φ(ht) and the ROHP-PAZ derived temperature and specific humidity profiles. Image from the supplementary materials in Cardellach et al., 2019.
The first five months of data provided by the ROHP-PAZ experiment have been processed and analyzed, and the results published at Geophysical Research Letters.
An extensive co-location exercise is the base of this study that aims to test the hypothesis of the experiment. The questions to be answered are: "Are hydrometeors inducing polarimetric phase shifts in GNSS RO signals? Can these be detected with the ROHP-PAZ satellite?". The results confirm the hypothesis, as detailed in Cardellach et al., 2019. The data set used for the study is now public for researchers to download and play with!
Reference:
E. Cardellach S. Oliveras A. Rius S. Tomás C. O. Ao G. W. Franklin B. A. Iijima D. Kuang T. K. Meehan R. Padullés M. de la Torre Juarez F. Joe Turk D. Hunt W. S. Schreiner S. V. Sokolovskiy T. Van Hove J. P. Weiss Y. Yoon Z. Zeng J. Clapp W. Xia-Serafino and F. Cerezo, Sensing heavy precipitation with GNSS polarimetric radio occultations, Geophys. Res. Lett., https://doi.org/10.1029/2018GL080412.
Data access: